You are here

May 4, 2020 - Face Masks for the Sheep
May 4, 2020 - Face Masks for the Sheep
Submitted by Alsworth Capital Management, LLC on May 6th, 2020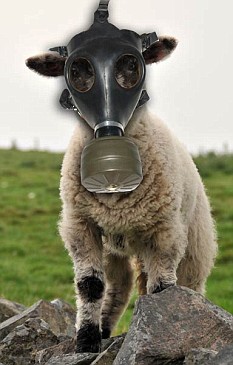 I hope this letter finds you physically and mentally healthy. We have passed the initial shock of pandemic fears, financial panic and our social world being turned upside down. However, the battle continues and the effects of isolation from shelter-in-place are cumulative with time.
My sense from all my interactions in the last couple weeks, is that the fight or flight response that defined the early weeks has subsided for most people. Though, I hear general exasperation with being stuck at home for so long. Our human brains are adaptive, and most people seem to have adjusted pretty well to the change to our daily routines and the disruption to our normal plans. However, our brains tend to rely on hardwired mental shortcuts, developed in our caveman days, to conserve energy and make quick decisions when we are under stress. Sometimes, that is counter-productive, especially when the decisions are complex. Now that most of us have taken measures to mitigate the immediate dangers and risks, we have the capacity to handle the more complex decisions and should be careful not to rely on easy mental shortcuts.
As you may know, I have four girls, three of which are adopted from various countries. We have a blended family that better resembles a United Nations meeting than a traditional household. My youngest daughter was born in Ethiopia and has the most beautiful complexion and darkest black skin. She recently read an article about restaurants and stores in China putting out signs stating that "Black People Are Not Allowed." It was jarring to her, and she asked me why this is happening. It seems strange, since we don't think of there being many different ethnicities in China and we don't have much historical reference to there being a particular issue with racism there as a result of that homogeny. The back story is that China has seen immigrants from Nigeria and elsewhere in Africa migrate to China in search of work. As new immigrants to the country, some are poor and working in lower skilled jobs. When China went into lockdown, many people fled the dense cities, but the poor lacked the money or the social connections to be able to leave their homes and flee. Those that stayed under quarantine, needed financial resources to have food delivered, etc. Five Nigerians in Guangzhou were found to have been infected with COVID19 and had left their homes, causing new infections. In response, the government forced all people of African descent into 14-day quarantine and landlords began evicting black tenants out of fear. As they attempted to find food and shelter, they were stigmatized as having a higher probability of carrying the virus. Logically, one could assume that all of the poor in China's dense cities would have similar exposure and risks to contracting the virus. The vast majority of those poor folks would logically be of Asian descent. However, as a mental shortcut in panic, African immigrants were easy to identify and thus they were easily targeted. It should be obvious that not all Africans in China have the virus, so a rule that prohibits servicing black people would not be an effective tool for controlling the virus. Many healthy blacks in China would be unfairly ostracized, but many poor Asian's that are just as likely to carry the virus, would be allowed to be serviced, further spreading the virus. Mental shortcuts, such as this, do not serve us well. We are capable of processing more complicated data in more intelligent ways. However, we must make an effort to try.
It has been over a month since California and New York first realized that they needed to shut down activity and halt the spread of COVID19. It has worked. The spread has been fast and the death toll untenable, however, it would have been orders of magnitude worse had the shut-down not occurred. The cost to our economy has been staggering, but our politicians did come together, both Republicans and Democrats, to quickly provide relief for individuals and small businesses. The unemployment program, in particular, has been remarkably effective in providing steady income for many of the most vulnerable in our society. Especially in more rural areas, where the cost of living is lower, many unemployed are making more money with unemployment benefits than they did while they were working. The additional $600/week on top of regular unemployment has been a meaningful sum for a large portion of those financially impacted by the shelter in place orders. We have learned a great deal from previous financial crisis, including the Great Recession of 2008 and this time around our Federal Reserve was ready to leap into action to keep markets functioning properly. In the initial sell off, there were areas of the market that were not trading rationally. They reflected panic selling as every investor wanted to jump ship at the same time and own only US Treasury bonds or cash. It reminds me of the musical chairs analogy I have used in previous commentary letters. The Fed took aggressive corrective action to give the market confidence to again price securities based on some semblance of fundamental valuation. These actions were complicated and behind the scenes, but exceptionally important. It worked. In the Great Depression, we didn't have these tools nor these agencies to make decisions. We have evolved.
The virus began in China and spread through Asia, then Europe and then to the US. We have had the advantage of learning from the experiences in China, South Korea, Singapore, Spain and the UK. They experienced the spread first, which gave us the confidence to enact shelter in place orders to save lives. Just recently, we have seen them slowly start to lift their shelter in place orders and return to more normal activities and interactions. If we give it some time, we can observe their experience since they are several weeks ahead in the spread of the virus. This is as close to a crystal ball as we can get. The virus and the impact of the shelter in place orders have had a tremendous impact on financial assets. It is the single most important factor impacting your investment portfolios. It is important to learn from the crystal ball that sits in front of us and make some rational decisions. For those decisions to be rational they must be divorced from emotion, politics, and behavioral traps. We must set aside our primitive fight or flight brains and look at the boring measurable numbers and facts. We should also allow the crystal ball to work by giving it time.
Thus far, we have learned that the virus can spread to anyone. No group of people is naturally immune. We know that it has a remarkably high "R naught" factor making it exceptionally contagious, spreading with ease at a rate that is magnitudes worse than many historical pandemic causing viruses and worse than the common flu. We know that the mortality rate is lower than we had previously feared, however, it can be very destructive for certain people and the mortality rate is still at least 10x higher than the common flu. The symptoms are much worse than the common flu for many people and it is very lethal to people with pre-existing medical conditions or weaker immune systems, disproportionately killing people over age 65. We know that young people are dying from this as well and some of those young people were otherwise in good health. We believe that the survivors develop immunity, but there are some cracks in that theory, and it isn't universal. We know that it can be transmitted very easily from face to face conversation and there is risk that infected people shed the virus and it can be spread through contact with that shed virus that gets picked up and transmitted to our nose, mouth or eyes. We do not have a vaccine. We are not likely to get a vaccine until 2021 or possibly 2022. Without a vaccine, our only defense is to avoid spreading it. That requires social distancing, face masks, good hygiene and shelter in place. Even if you believe that you can contract the virus and survive it, you will almost certainly infect others. The only way to minimize the number of people you infect is to have readily accessible testing and some method of identifying the people you may have infected. In Asia, this has been done by having many redundancies in testing, with quite easy and readily available testing. They then track infected person's interactions with somewhat invasive (to privacy) tracking on phones and investigations. It has worked. In the US, we were slow to react, and institute shelter in place orders. This is largely because we culturally prioritize our freedoms, our privacy and we generally distrust our institutions and each other due to extreme political rancor. As a result, we quickly went from a few cases to over 1.1 million, much worse than Asia even adjusting for likely underreporting and adjusting for our population. We were not uniform in our shelter in place orders and we are already seeing a disjointed lifting of travel restrictions around the country. If we look at our crystal ball provided by the early countries, we are jumping the gun substantially by normalizing travel and interactions early. It is understandable. Culturally, we were never going to sit idle and accept a centralized government control of our businesses and social interactions. This is America and we were built on a history of individual freedoms and self-determination. We can't really expect that we were ever going to follow the advice of medical professionals and experts when that advice is so difficult to accept. Sitting at home is no fun. Watching our small businesses wither and die is wrenching. Over 68,000 people have died in the US, but few of them are personally known by many of our 328 million citizens. Though, that may change if this virus is allowed to spread and the numbers grow.
We are working hard to ramp up testing. I believe we are doing everything we can to catch up and I'm confident that we will be able to correct this problem. We are the richest nation on the planet with resources and strong institutions. This problem can be fixed. Once we have ready easy access to testing, we can test ourselves and self-quarantine. I have little confidence that we will accept quarantine orders from government officials. However, I have confidence that most Americans will make the good decision to self-quarantine, if they can get tested to know if they have been infected in the first place. I have no confidence that we will accept tracking on our phones or "tracers" interviewing and checking our interactions. However, I believe that once a person tests positive and that information is presented to the public, anyone that had any contact with that person will test themselves. Again, it all comes back to the test. Our only hope at squashing this thing is testing. You have to be able to order the test on Amazon or do drive through testing without any symptoms or permission needed. It must be universally available. It is not remotely close to that yet.
You likely already know all of this from the countless hours of news watching you have done. What you may not know, unless you watch financial news closely, is that the US stock market has had one of the most powerful rallies in history. After dropping over 34% from February 19th to March 23rd, the US stock market has bounced back up over 26% as of May 1st. This fact should be a clear indication of the futility of trying to time the market and hide out in cash until the news gets better. Your quarterly reports show the portfolio as of March 30th, prior to the April rally. In this market, it is ancient news already. As of this writing, the market is just 11% below the market peak reached in February. A 10% drop is considered a normal market correction level of decline. It definitely does not reflect the fact that we are in the thralls of a deep recession or spending trillions of dollars on unproductive stimulus measures to prevent a depression. Investors are clearly betting on a "V" shaped recovery once shelter in place orders are lifted. We are seeing some states lift restrictions and it would be logical to assume that we are marching toward normalization. However, I believe that is an overly simplistic interpretation of the data.
When the market dropped 34%, it wiped out much of the over-valuation that we have been worried about in recent years and brought valuations on US stocks back to a more historically normal level. Not cheap by any measure, but more reasonable. We reacted by increasing our allocation to US stocks and rebalancing portfolios. The market has rallied since then and that proved to be a good move in the short run. With the recent move up in stocks, they are again looking expensive, even if we ignore the virus driven recession and just look at normalized markets a few years out. Factoring in the uncertainty with the virus and my concerns about our inability to manage it as well as others in our crystal ball (early countries), I am concerned about valuations again. As a result, I rebalanced portfolios again to trim some of our recent gains and "Shear the Sheep." If markets continue to run up, we will be reducing our allocation to stocks. We have continued to swap out positions in your portfolio to move into higher quality holdings (larger more stable companies). I continue to watch the implosion of oil prices with interest for a potential tactical allocation. I continue to add modestly to our Gold position, and I expect to increase it more, if the opportunity presents. If we continue to get relief in the high yield (low quality) corporate bond space, I plan on improving the quality of our bond holdings, as well. When the markets were in panic mode, we had an opportunity to do some buying on the cheap. We may well have more of those opportunities between now and when an actual vaccine is readily available. Treatments for the symptoms of COVID19 are important and worth cheering for. However, it is not the same thing as having a vaccine, and that is the only way to end this pandemic. Releasing from the isolation of shelter in place orders is necessary and important for our economy, as well as our mental health. We should be optimistic and anxious for a return to normalcy. However, doing it too quickly and without the tools necessary to track and isolate the sick is only going to cause further spread. It is true that we can be smart about allowing more freedom of movement in Wyoming than New York City. However, eventually someone from NYC is going to end up in Wyoming and with no precautions, the virus will spread there as well. Rural Georgia and rural Florida should be more open and freer, like Wyoming. However, Atlanta and Miami do not have the same conditions as the rural areas of those states. Also, people from Atlanta and Miami do have relatives and interactions with people in rural Georgia and Florida. We have to be smart about this and embrace complicated solutions to complicated problems. Simple blunt solutions will not suffice. Similarly, simple expectations that the US economy and stock market are going to quickly return to the conditions that persisted before the pandemic are inconsistent with the data. It is going to take some time to heal from this, but we will heal.
We will continue to stick to our discipline and strategy for managing your "flock." We will continue to shear the sheep rather than sending them to slaughter. At this moment we are putting face masks on all the sheep and taking extra precautions. I hope you will do the same for the shepherd.
Your Chief Flock Officer (CFO),

Shane M. Alsworth, MBA, CFP®, CLU®, CIMA®
The views and opinions presented in this article are those of Shane Alsworth only
Investments are subject to market risks including the potential loss of principal invested.
Asset Allocation does not assure or guarantee better performance and cannot eliminate the risk of investment losses.
Sources: Morningstar/Ibbotson data, Ned Davis Research, BCA Research, Litman Gregory Research